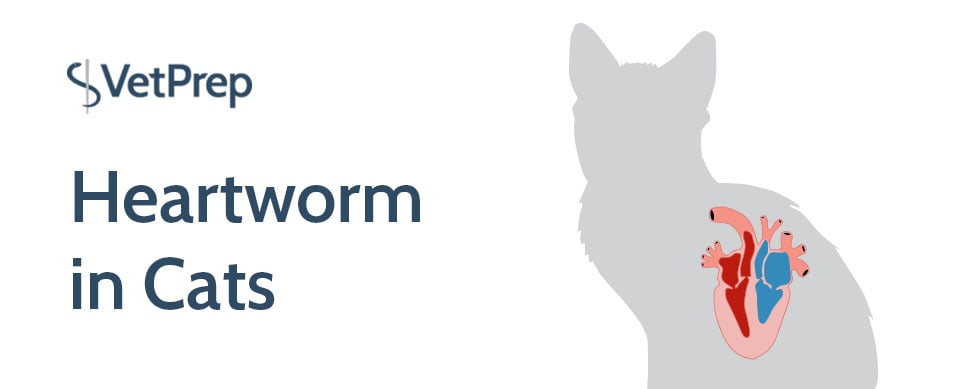 In your vet school, have you heard the phrase, "cats are not small dogs?" This is a great statement to remember because they are very different for a variety of reasons including but not limited to physiology, behavior, disease processes and drug metabolism.
Even in some disease processes that affect both species, there are some important differences. Take heartworm disease, for example. While D. immitis can affect both cats and dogs, let's review what is unique to heartworm disease in cats.
Key Facts about D. immitis in cats:
Adult worm burden: few (about a half dozen or so)

This is significantly lower than in dogs, which can be infected with hundreds of adult worms

Microfilariae: Less likely

It is reported that less than 20% of cats have microfilariae in their circulatory system

Adults worm survival time: shorter

D. immitis adult worms only survive for about 2-4 years in cats, whereas in dogs they can survive for many more years

Lifecycle differences:

There is longer pre-patent period in cats; it is about 7-8 months
Additionally, cats are not a definitive host for D. immitis – they are an atypical host
Therefore, transmission to other animals is not concerning like it is with infected dogs

Pathogenesis and Clinical Signs

"Recent studies suggest that some cats are asymptomatic and self-cure, with the infection unrecognized." [1]
Cats are more likely to have aberrant larval migration of worms other body cavities or organs
While some cats may be asymptomatic, in other cases, cats can experience pulmonary changes resulting in heartworm associated respiratory disease (HARD). This can manifest as respiratory signs such as coughing, difficulty breathing or wheezing.

Diagnostic differences

Test not required before initiating prevention
Diagnosing heartworm infection in cats is more complex than in dogs

Diagnostic tests

Cannot just rely on HW antigen test as there may be a low female worm burden which can result in false negatives
HW antibody test is performed in cats but only informs about exposure, not necessarily active infection

Treatment: Cats do not receive adulticidal therapy. Rather, they are often treated with a steroid and kept on prevention.
Summary
We hope that this article will serve as a useful reminder and an example of why we need to be knowledgeable about cats in clinical practice. Remember - they really are not just small dogs!
However, like dogs, they too need to be protected from this potentially deadly yet preventable disease. Every cat owner should be encouraged to keep their feline friends on year round heartworm prevention!
References:
Cote, Etienne. Clinical Veterinary Advisor. Elsevier: St. Louis, MO
Heartworm Disease. American Heartworm Society.
Parasitology. University of Florida CVM.
Yin, Sophia. Veterinary Nerdbook.Cattledog Publishing