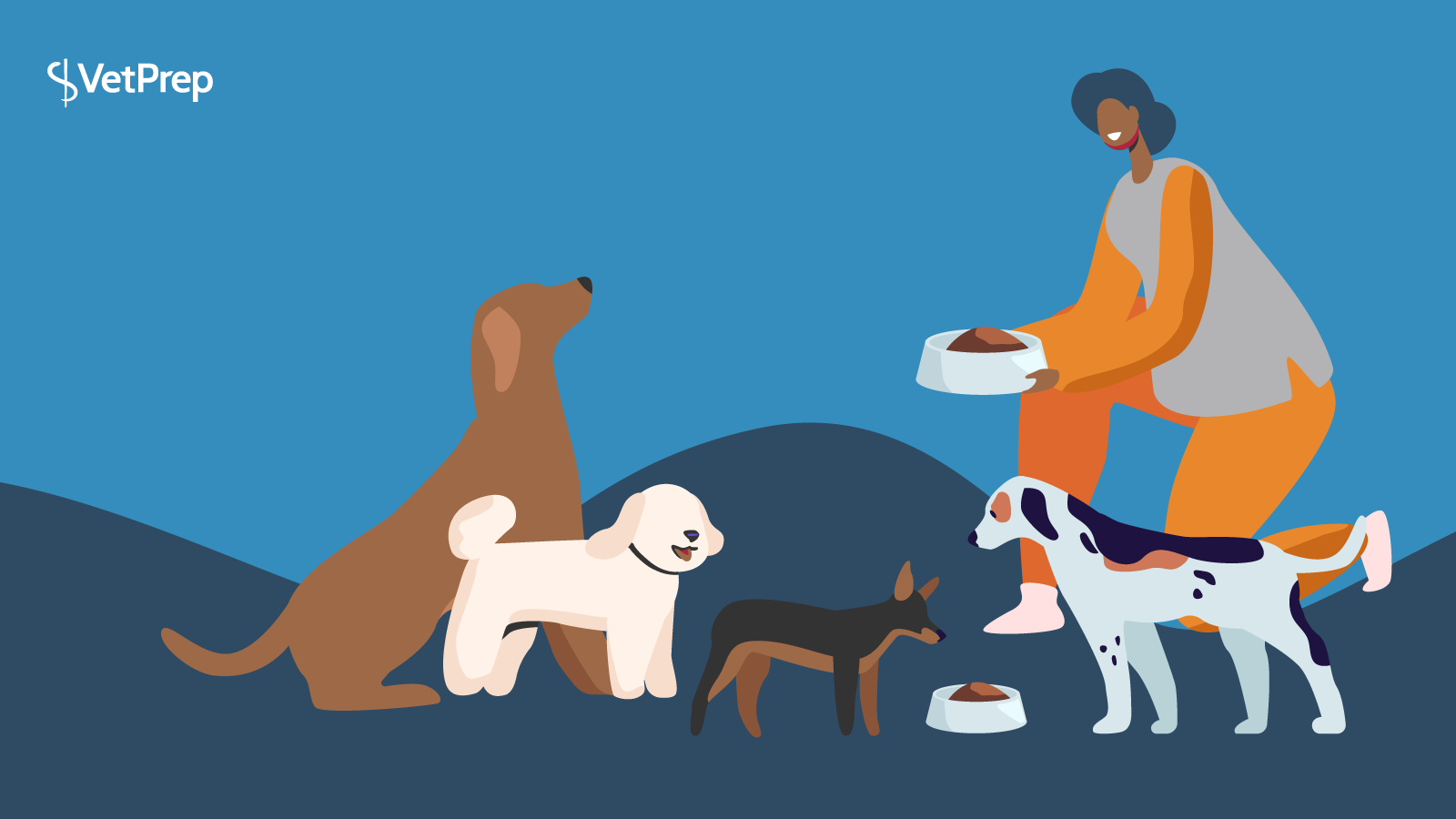 If you're like the majority of vet students, you entered this field because you care about animals and want to improve their well-being. While there are certainly many ways to achieve that goal, shelter medicine provides a powerful opportunity to have a positive impact on the lives of companion animals.
What are the responsibilities of a shelter medicine veterinarian?
The responsibilities of a shelter vet vary, based on the shelter. While spaying and neutering shelter pets is one common task of the shelter vet, many shelters ask far more of their veterinarians than just routine surgery! As a shelter vet, you are expected to balance care for individual pets with a true "herd health" mentality, ensuring the welfare of the shelter population and the community animal population as a whole.
Shelter vets need an extensive knowledge of epidemiology, infectious disease control, and public health, in order to prevent and manage disease outbreaks. An understanding of animal behavior is also required, in order to minimize stress in the shelter setting and promote socialization that will help shelter pets become successfully integrated into their forever homes. Shelter vets must also have an understanding of veterinary forensics, as they are often called upon to aid in the investigation of animal-related crimes. Finally, shelter vets should have a basic understanding of shelter facility design (which must balance the competing goals of disease prevention, shelter pets' emotional well-being, and public appeal) and policy development.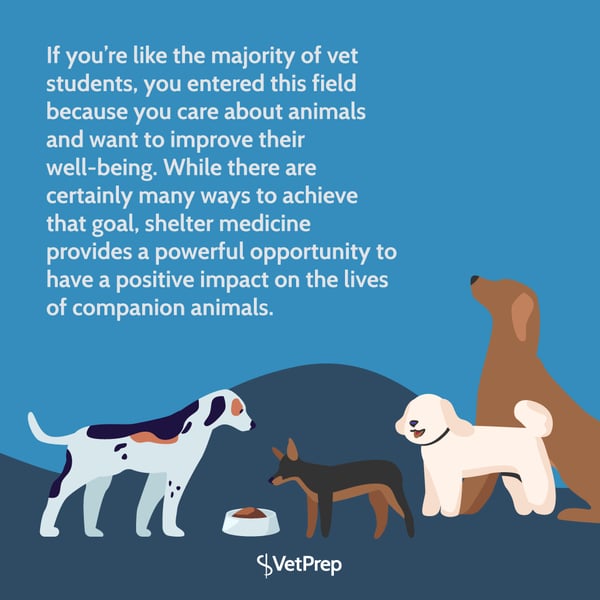 Has shelter medicine always been a career option for veterinarians?
Shelter medicine is regarded as a relatively new field. Historically, the primary functions of animal shelters were short-term animal holding and euthanasia. In the 1990's, however, the rise of the no-kill movement led shelters to begin keeping animals for longer periods of time and providing a higher level of medical care to these pets.1 These changes in animal sheltering practices led to the development of the field of shelter medicine.
What additional training opportunities are available?
As a veterinary student, you likely have access to externships at a number of different animal shelters. While shelter medicine externships can be an excellent way to gain experience with spays and neuters, they can also provide you with the opportunity to gain firsthand experience in a shelter setting and learn more about this field. Externship opportunities and availability are constantly changing, so you will want to go through your vet school and conduct online searches to obtain the most up-to-date information.
Upon graduation from vet school, you may want to consider a shelter medicine internship or residency. Some of these programs are available through the Veterinary Internship and Residency Matching Program, while others must be found through networking and other routes.
Some options for additional training include:
If you aren't ready to commit to an internship or residency, but you would like to gain more knowledge in this field, a number of online training opportunities are available. These opportunities range from one-time webinars to more intensive graduate certificate programs, depending on your interests.
Options include:
If you are interested in working in shelter medicine, you may find that shelters differ in whether they expect or require additional training from the veterinarians. Some shelters may be happy to accept a veterinarian without any special training, while others may seek out veterinarians with specialized training and skills.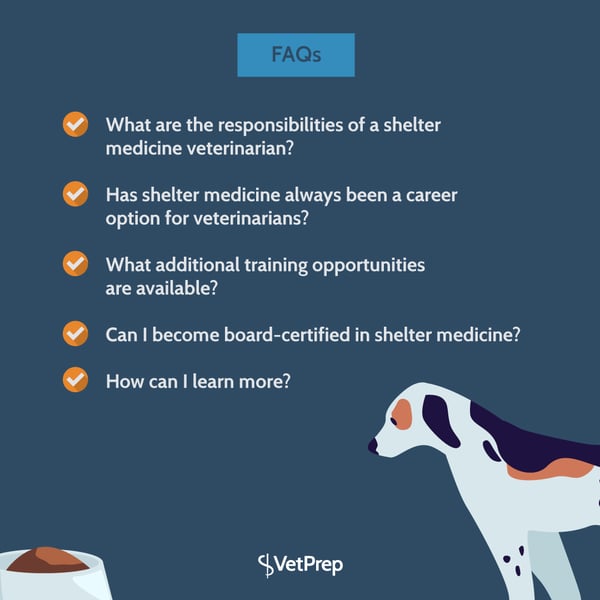 Can I become board-certified in shelter medicine?
Shelter Medicine is the newest specialty offered by the American Board of Veterinary Practitioners (ABVP).
The requirements to achieve diplomate status include the following:
Six years of full-time shelter medicine experience
Continuing education in shelter medicine
Written case reports
Comprehensive examination
While board certification is not necessary for all shelter medicine veterinarians, it can be an excellent way to distinguish yourself in the field and prepare for leadership roles.
How can I learn more?
If you're interested in learning more about shelter medicine, the Association of Shelter Veterinarians website is a good place to start. This website contains job listings, continuing education opportunities, guidelines for animal shelters, and information on a variety of other topics.
References
Avanzino R. 2017. What is the Role of a Veterinarian in Animal Shelters? Maddie's Fund.