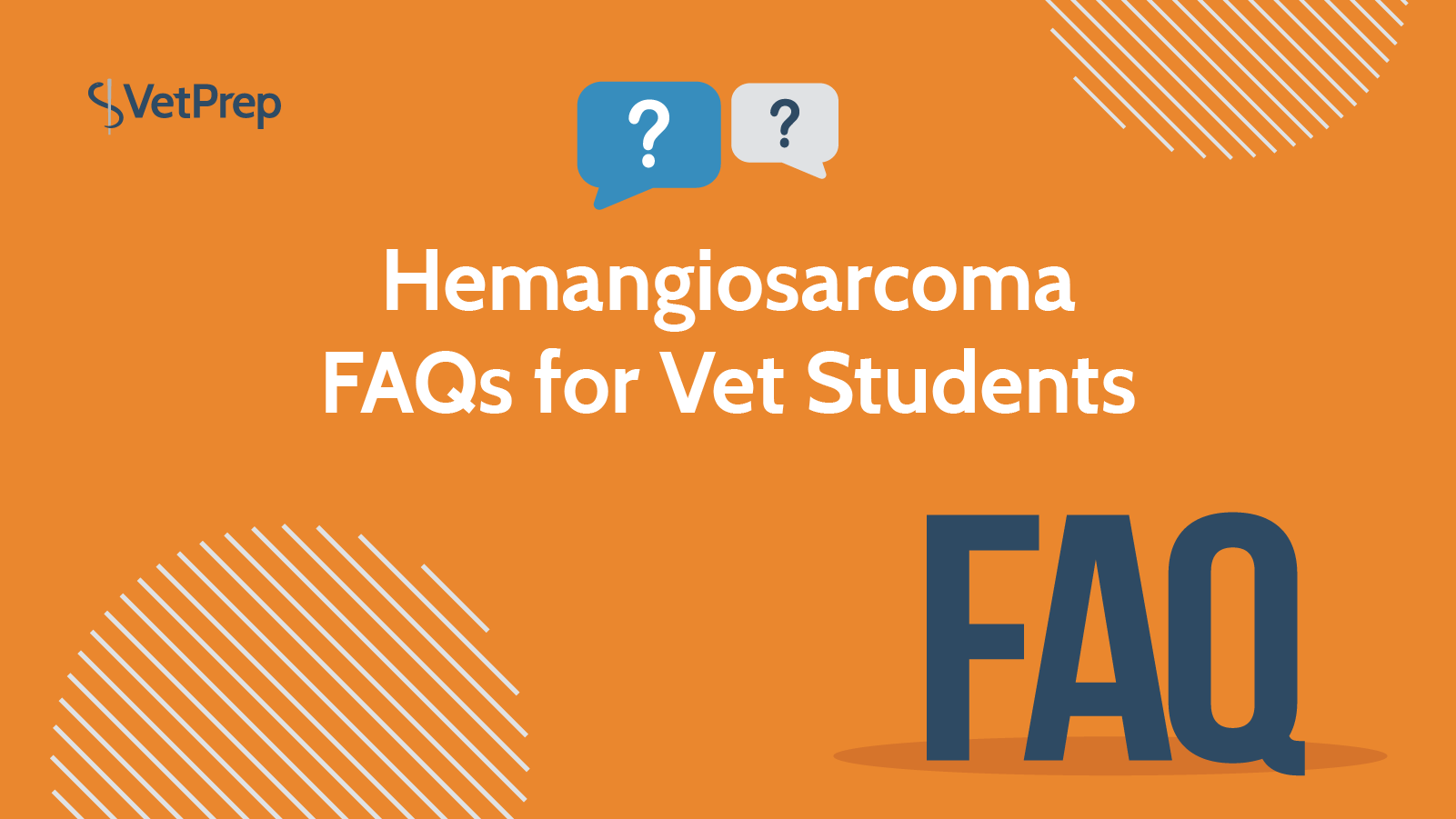 If you haven't yet had any experience with hemangiosarcoma, that is likely to change at some point during your career!
Unfortunately, unlike other forms of cancer that tend to creep up slowly, giving clients at least a short period of time to consider the possibilities and decide how to proceed, hemangiosarcoma often presents as an emergency.
If a dog comes in with a hemoabdomen due to a splenic tumor, you must consider hemangiosarcoma as a differential and be prepared to educate your clients within a relatively short period of time.
What is hemangiosarcoma?
Hemangiosarcoma is a malignant cancer of middle-aged and older dogs. It affects the endothelial cells that line blood vessels. Although this tumor can arise anywhere in the body, the most common sites for hemangiosarcoma are the spleen, liver, right atrium, and subcutaneous tissues. Approximately half of hemangiosarcomas occur on the spleen.
What are the clinical signs of hemangiosarcoma?
Clinical signs of hemangiosarcoma are variable, depending on the tumor location.
The classic hemangiosarcoma case occurs when a mass in the spleen or liver begins to bleed, leading to an acute hemoabdomen. These dogs typically present in a state of acute collapse, with pale mucous membranes, weak pulses, and tachycardia. A slow bleed may lead to more subtle signs; affected dogs may be lethargic, instead of acutely collapsing.
Like a splenic hemangiosarcoma, a ruptured heart base hemangiosarcoma may also lead to collapse. In this case, the collapse is associated with cardiac tamponade. These dogs will also have pale mucous membranes, weak peripheral pulses, and tachycardia.
In some cases, hemangiosarcoma is detected as part of a routine wellness exam or workup for another condition. The tumor may be found on abdominal palpation or detected on imaging (abdominal radiography/ultrasound or cardiac ultrasound).
Cutaneous hemangiosarcoma accounts for approximately 2-4% of hemangiosarcoma cases.1 This type of tumor presents as a visible mass in or under the skin. The mass may be observed by the owner at home or detected on a routine physical examination.
How common is hemangiosarcoma?
Hemangiosarcoma accounts for approximately 5% of all non-cutaneous malignancies in dogs.2 When considering dogs with splenic tumors, however, approximately 45% of those dogs will be diagnosed with hemangiosarcoma.3 If a dog presents with a hemoabdomen due to a ruptured splenic mass, however, hemangiosarcoma becomes even more likely. In a study of dogs that presented for nontraumatic hemoabdomen, approximately 70% were diagnosed with hemangiosarcoma.4
Which breeds are predisposed to hemangiosarcoma?
Predisposed breeds include Golden Retrievers, Labrador Retrievers, and German Shepherd dogs. A genetic predisposition is suspected, given these breed predispositions, but the precise genetics of hemangiosarcoma have not yet been determined.
What is the best treatment for hemangiosarcoma?
The initial treatment of hemangiosarcoma consists of surgical exploration and excision of the mass. Don't forget to biopsy any potential metastatic lesions that you observe during surgery. After you have removed the spleen and biopsied any suspicious sites, lavage the abdomen thoroughly. This can help reduce the likelihood of tumor seeding from the friable splenic tissue.
Once a histopathologic diagnosis has been made, chemotherapy is typically recommended. The most common chemotherapy protocols are focused on doxorubicin (given every two to three weeks for a total of five treatments). Alternative protocols are also being explored, in an effort to minimize the cardiotoxic effects of doxorubicin.
What is the prognosis for hemangiosarcoma?
Although treatment does improve outcomes in dogs with hemangiosarcoma, the 1-year survival for hemangiosarcoma is less than 10%, regardless of treatment approach.5 Surgery alone is considered to be only palliative therapy, with reported survival times of approximately 1-3 months.3 With chemotherapy, survival times can extend to 6-9 months.3
Dogs with cutaneous hemangiosarcoma may have a better prognosis, especially in the case of a low-grade tumor that can be completely excised. Some of these tumors metastasize, but other dogs experience prolonged survival after surgery alone.2
Your Job: Provide Information
When a dog presents in a state of collapse and is diagnosed with hemoabdomen, the client must make decisions quickly. All you, as the veterinarian, can do is offer information that will help the client make an informed decision. Being able to provide statistics on the likelihood of hemangiosarcoma, as well as potential outcomes associated with hemangiosarcoma, can help clients make the best possible treatment decision in a very stressful situation.
References
Palmquist RE. 2019. Canine Cutaneous Hemangiosarcoma: A Potentially New Approach. VMX Veterinary Meeting and Expo.
Boatright K. 2021. Essential information for veterinarians about hemangiosarcoma. DVM360. Retrieved from:
Pintar J, Breitschwerdt EB, Hardie EM, Spaulding KA. 2003. Acute nontraumatic hemoabdomen in the dog: a retrospective analysis of 39 cases (1987-2001). J Am Anim Hosp Assoc. 39(6):518-522. doi:10.5326/0390518
Helfand LC. 2008. Canine hemangiosarcoma: a tumor of contemporary interest. Cancer Ther. 6(2):457-462.