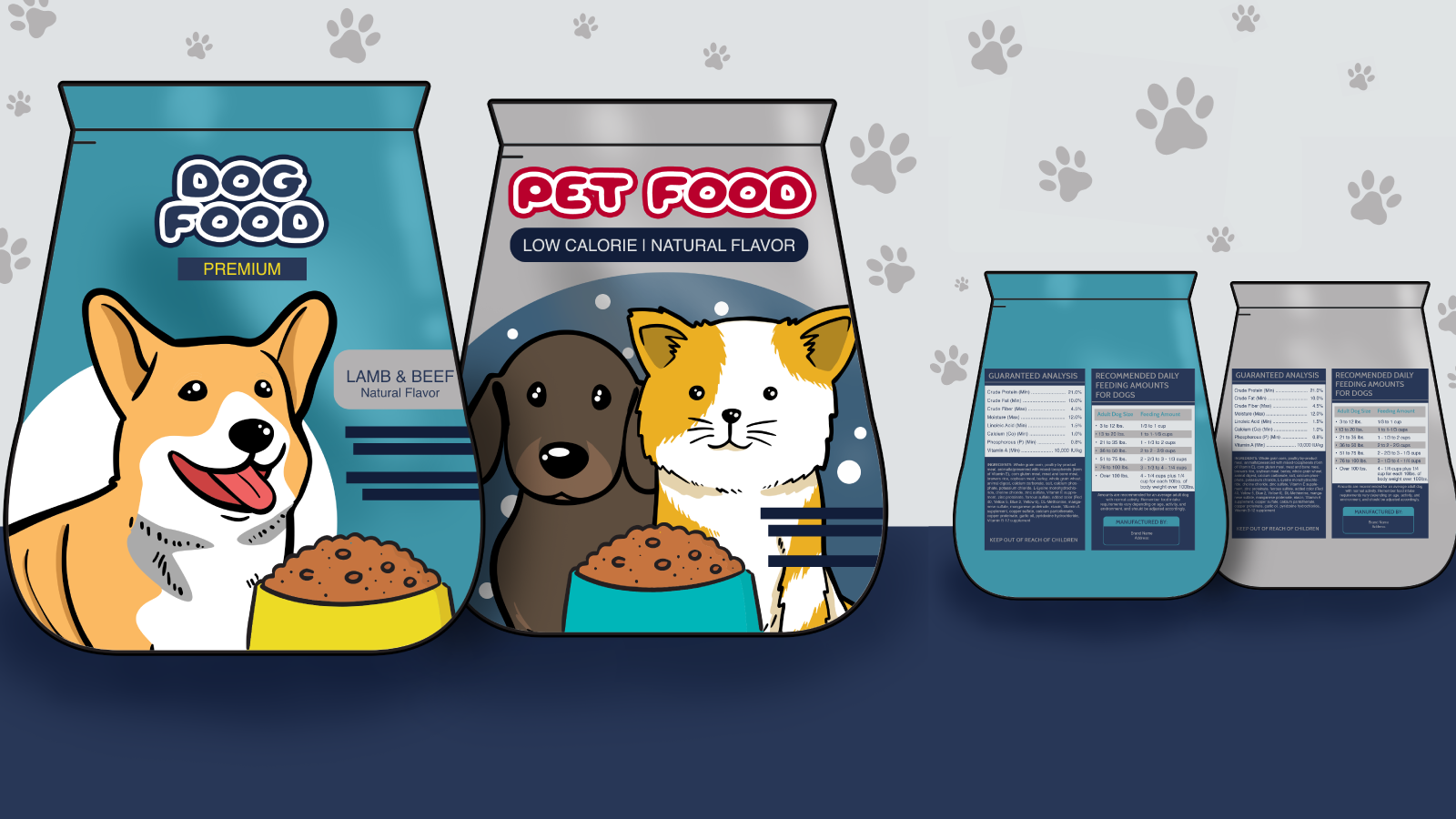 Pet food labels can provide a lot of helpful information, if you know where to look! Unfortunately, the information that first catches your eye (and the eyes of your clients) is often the least helpful.
Labels often contain extensive marketing claims that are relatively devoid of meaning. It's important for you and your clients to look past this information, in order to determine what's actually relevant on the label.
There are two required pieces of information on a pet food label: the principal display panel and the information panel. Each of these panels is required to contain specific information about the pet food.

The Principal Display Panel
The principal display panel is typically located on the front of the bag or can. This portion of the label contains 3 pieces of information:
Product and brand name
Species for which the food is intended
Net quantity (weight or volume) present in the package
In other words, the principal display panel tells the client what pet food they're buying and how much of that food is in the container.
Although that sounds pretty basic and straightforward, there is one aspect of the principal display panel that provides unexpectedly helpful information: the product name. The Association of American Feed Control Officials (AAFCO) has established specific guidelines that determine which product names can be applied to a given food. For example, a food that is labeled "beef for dogs" must contain >70% beef on an as-fed basis. Foods labeled "beef dinner" or "beef entrée" may contain as little as 25% beef and foods labeled "with beef" may contain as little as 3% beef.1
The Information Panel
The information panel, which is typically found on the back of the bag or can of pet food, is where you and your clients will find the most helpful information about the diet.
In general, the information panel will look something like this: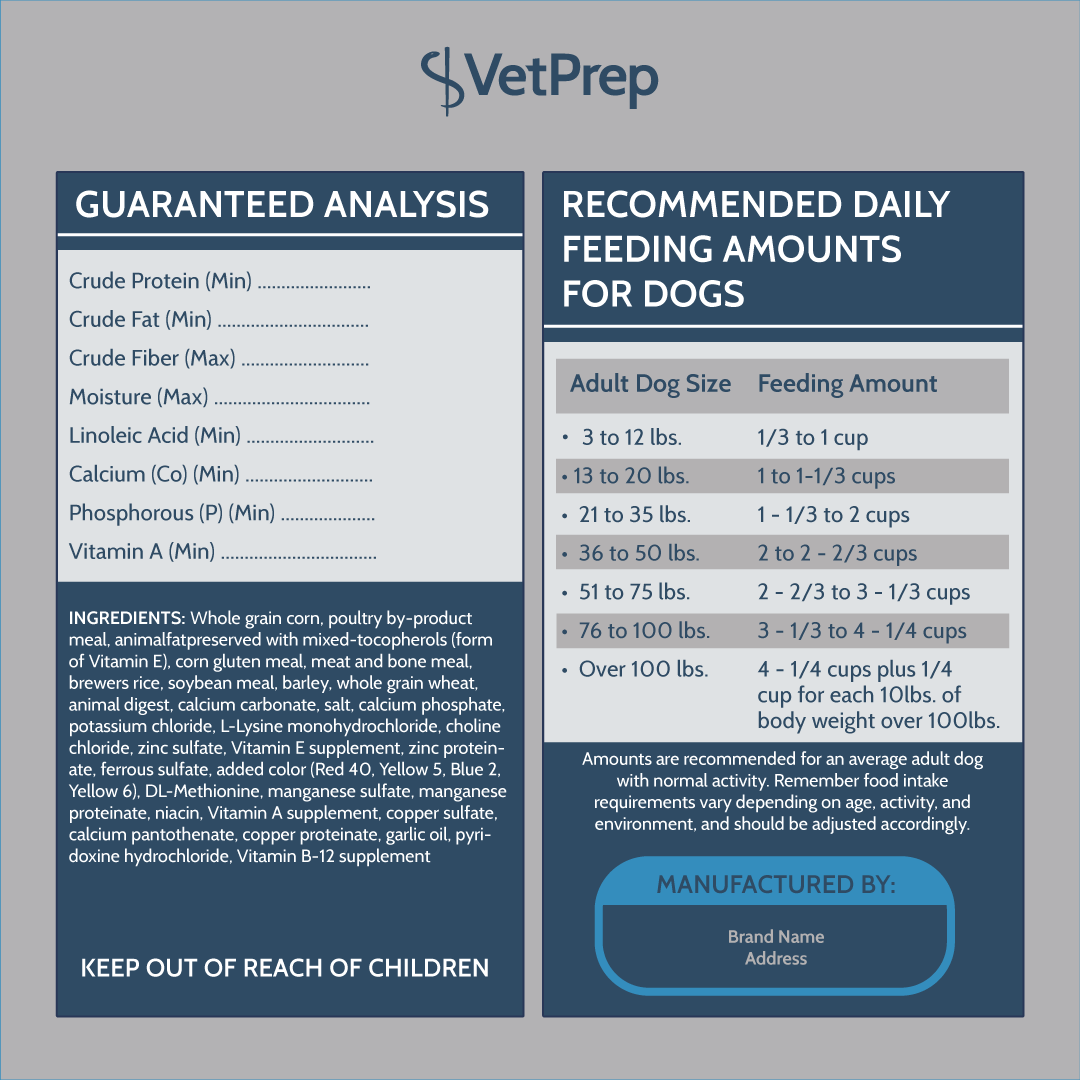 The nutrition panel contains multiple components, each of which is required to be present on the label.
Guaranteed Analysis
This portion of the information panel provides the minimum protein content, minimum fat content, maximum fiber content, and maximum moisture content of the diet. Additionally, if the label contains a specific claim, such as "with omega-3s," that ingredient must also be listed in the guaranteed analysis. The guaranteed analysis is determined on an "as fed" basis. This makes it difficult to compare the guaranteed analysis of different pet foods, because diets often differ significantly in moisture levels and caloric density. An accurate comparison is not possible without converting the guaranteed analysis to a dry matter (DM) basis or a per kcal basis, which is not feasible for most pet owners. Also, the guaranteed analysis only provides a maximum or minimum; no exact quantities are provided. So, while many clients focus on the guaranteed analysis as an important indicator of a food's quality, it is less helpful than it appears at first glance.
Ingredient Statement
The ingredient statement lists the diet's ingredients, in order of decreasing weight. It is important to note, however, that high-moisture foods weigh more than low-moisture foods, regardless of the amount of calories and nutrients they contribute to the diet. Therefore, the foods that are listed first are not always the primary nutrition source within the food! Also, owners should understand that it is not uncommon for small amounts of ingredients to be added solely for the purpose of having them listed on the ingredient statement.2 Therefore, even the ingredient statement is not as helpful as many pet owners believe and it may be heavily influenced by marketing trends.
Nutritional Adequacy Statement
This is probably the most important part of a pet food label. One of the following three statements will appear on the information panel:
This product is intended for intermittent and supplemental feeding only.
Animal feeding tests using AAFCO procedures substantiate that ______ provides complete and balanced nutrition for [species, life stage].
______ is formulated to meet AAFCO nutrient profiles for [species, life stage].1
A food labeled for intermittent/supplemental feeding is not designed to meet a pet's nutritional needs and should not be fed as a primary diet. It is important to feed a complete and balanced diet, designed to meet the nutritional requirements of the pet's particular life stage (gestation/lactation, growth, or maintenance) or all life stages. Ideally, this food should have been through animal feeding tests, to ensure that the diet works in a real-life situation. Any diet "formulated to meet AAFCO nutrient profiles" has either not been through AAFCO feeding trials or has failed these trials.2
Feeding Directions
Any food marketed as complete and balanced must provide feeding directions. These directions are intended as a general guideline; individual pets may need slightly more or less than the labeled amount to maintain their ideal body weight. The owners of overweight pets attempting calorie restriction should be aware that pets receiving less than 75% of the recommended quantity are at risk of developing nutrient deficiencies.2
Name and Address of Manufacturer/Distributor/Guarantor
In many cases, the company that is listed on this portion of the information panel differs from the company name that is listed on the front of the bag. The company listed on this panel is the company that is responsible for any negative outcomes associated with the pet food.
Reading a pet food label is challenging for many pet owners, because so many of the items that seem to be important have little impact on the actual diet quality. Look for opportunities to educate your clients on how to assess pet food quality, so that they can avoid wasting money on foods that are not an adequate source of nutrition for their pets.
References
AAFCO. Reading Labels.
Heinze CR. Pet Food 101: Labels and Regulation. Michigan VMA.
AAFCO. Who's Responsible?