If you're planning to pursue an internship after vet school, you've probably heard of the Veterinary Internship and Residency Matching Program, also known as
"The VIRMP"
or "The Match."
The VIRMP is designed to create an optimal match between internship/residency candidates and available programs.
It does this by asking candidates to rank the programs they're applying to (in order of preference), while simultaneously asking programs to rank the applicants that they would be willing to accept. A computer compiles these rankings and matches candidates to programs, based on information gathered from both sides.
In theory, this process maximizes the likelihood of good outcomes for both candidates and programs by taking everyone's preferences into account.
What are the key dates for the 2020 VIRMP application cycle?
October 14, 2019:
Available programs are listed on the
VIRMP website
.
(1)
You can register for the VIRMP and begin reviewing program descriptions at this time.
December 9, 2019:
Application deadline. Items that must be submitted by this date include:
Online Application Packet (including letter of intent)
Transcript
Letters of Reference
January 17, 2020:
Deadline to submit your rank order lists. Deadline to withdraw from the VIRMP (if you no longer wish to be matched to an internship/residency).
February 10, 2020:
Match results posted on the VIRMP website.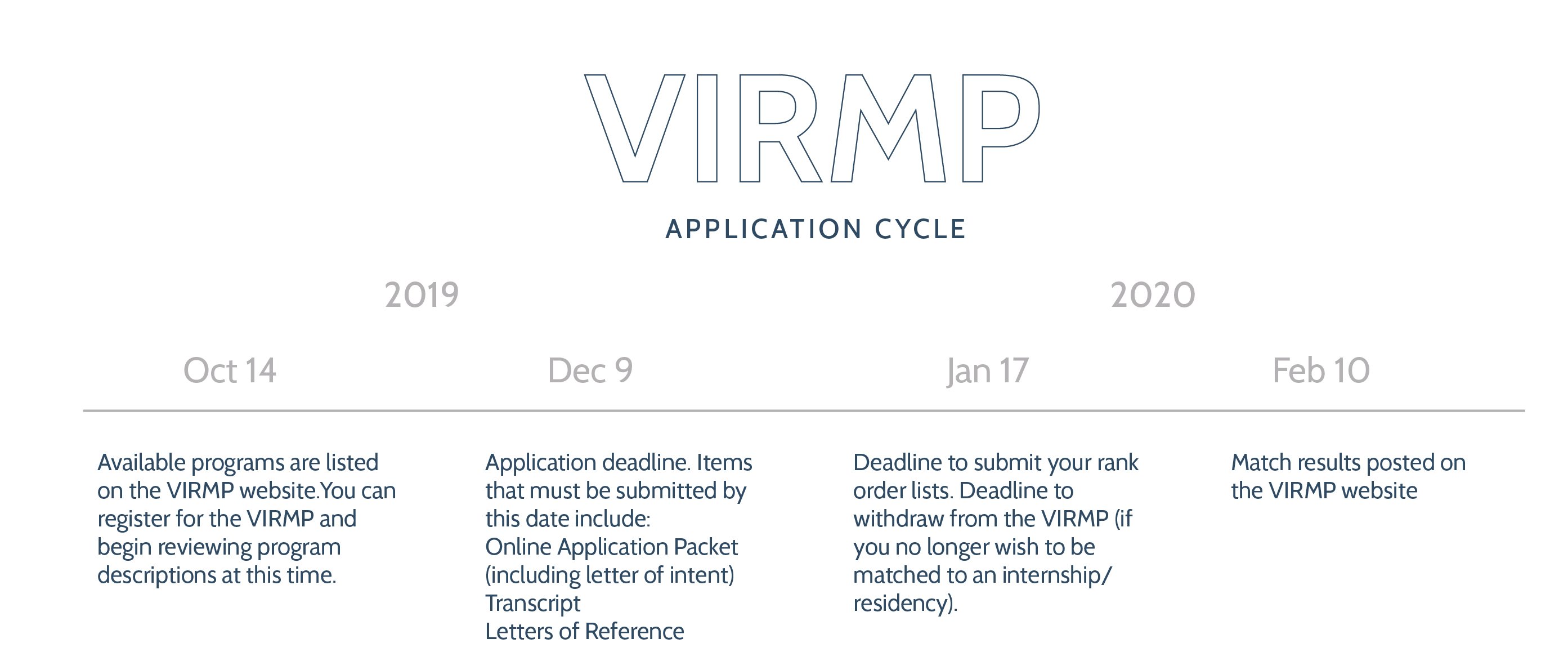 How do I narrow down my internship options?
When you log in to the VIRMP website, you will see that there are
many
available internships. You need a strategy to narrow down the options and eliminate programs that aren't a good fit.
Ask yourself these questions:
Is there a particular geographic area in which I need or want to live?
Would I prefer academia or private practice, or am I open to both?
Am I okay with working solo ER shifts, or is that a deal-breaker?
Do I want a broad-based internship, or one that's focused on a particular area?
Do I want to complete a residency after my internship? (If so, focus on internships that have a specialist in your chosen field.)
After eliminating programs that will not work for you, examine your remaining options in more detail. Look at what percent of a program's interns match to residencies. Talk to current and former interns. If possible, consider an externship at one or two of your top choices. This research can help you make an educated decision on where you will go after vet school.
Does the VIRMP regulate internships?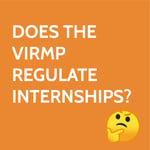 No, it does not. The VIRMP website states "The AAVC [American Association of Veterinary Clinicians] is an association dedicated to promoting postgraduate clinical education, and
does not
regulate or
certify internship and residency programs that are included in the VIRMP.
"
(2)
A listing in the VIRMP does not indicate anything about the quality of an internship program, so it's important that you carefully review each program's Internship Disclosure form and do your research.
How should I obtain letters of reference?
Your letters of reference play a
big
role in how your overall application package will be received. Your goal is to get the strongest letters that you possibly can. Think of three clinicians who know you well and who would enthusiastically recommend you. Adding a fourth letter can help, but only if you're sure that it will be just as strong as the first three letters.
Try to obtain letters from clinicians with a connection to your top-choice program. For example, if your surgery professor completed a residency at your dream university, that would be a great person to ask for a letter! If you're applying for a rotating internship, get letters from a variety of specialties in order to showcase your skills in a variety of areas.
Give your letter writers plenty of advance notice. Ask them at least one month prior to the due date, if not earlier. Provide a copy of your CV, as well as your GPA and class rank, in order to ensure that your letters are as detailed and effective as possible. Once the letters have been submitted, be sure to thank your letter-writers with a thank you card!
What if I don't match to an internship?
A list of open, unmatched positions will be posted on the VIRMP website on February 10, 2020. At that time, anyone registered for the VIRMP can apply for unmatched positions. You will want to apply early, because the list of open positions becomes available to the public on February 24, 2020!
References
2020 Schedule. Veterinary Internship and Residency Matching Program.
Internship programs. The Veterinary Internship and Residency Matching Program.
Download The eBook: The 7 Cardinal Rules Every Applicant Should Know When Applying to the VIRMP