Everywhere you go, and everywhere you look, people are on their phones. Technology continues to advance and more apps and information are available to us. I believe there is a time and a place for cell phones, but what about at work? That is the last place that I would say you should use your cell phone. But, I must say that there are some wonderful veterinary apps that can be very useful in clinical practice!
Here are the apps in no particular order, that I believe are the most essential iPhone apps for veterinarians and vet students. These apps can help to make you more efficient and knowledgeable! No longer will you have to search through your old text books for information.
1. VetPDA Calcs
($4.99)
This app from UC Davis contains 22 usefuls calculators for students and veterinarians. Calculates fluid rates and plans including dehydration percent, ongoing losses, fluid additives, etc. It calculates bolus and CRI doses, blood gasses, and many others. An extremely valuable and reliable tool from a trusted resource to have in clinical practice!
2. ViralVet


(Free)
This amazing and recently launched app is for veterinary professionals to share images and collaborate on cases. There are already over 2,000 professionals using the app and is rapidly growing.
A great place to learn and also share your own cases. I had a question about a cat's eye lesion, posted a photo and the history, and a boarded opthalmologist gave me some great advice. A very useful tool...and it's free!
Did we mention that it's from the VetPrep Family?
3. Veterinary AliveECG
(app is free but must be used with special case $199, great for practice owners and mobile vets)
Sometimes you need to get an ECG on the fly. In the exam room, or for a pet that is down, this app is useful because you don't have to use your cumbersome traditional machine with leads and wires. This special phone case and app allows you to take the ECG reading by putting the phone up to the animal's heart. At the hospital where I work we have this device.
The case snaps on to your iphone. It is extremely accurate and reliable. Can be used to record a single-lead ECG of any duration on dogs, cats, and horses. See it in action!
4. The VetPrep Mobile App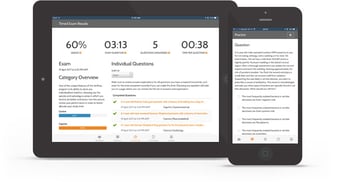 You can now prep for the NAVLE® on your smartphone or tablet with our app for iOS and Android. Take a few questions, review a couple of PowerPages or PowerLectures, or sneak in a quick timed exam whenever and wherever you have a little time. The app is available for free with every VetPrep subscription.
5. PetPace
(a smart collar for pets, owner pays for collar and monthly monitoring fee, vets can see results via free app)
Humans have their Fitbits and other devices. What about our pet patients? PetPace is a unique smart collar that continuously and non-invasively collects data on a pet's temperature, pulse, respiration, calories, body postures, heart rate changes and more. The owner purchases the collar, and the app is free to use by the veterinarian.
Check out the case studies using this collar.
Image Sharing and Case Collaboration for Veterinary Professionals and Students!

Share images and discuss interesting and challenging cases with veterinary colleagues. It's fun, simple to use, educational, interactive and completely FREE!