The following veterinary infographic is on the comparative anatomy of the canine, bovine and equine forelimb. It includes the Scapula, Humerus, Radius, Ulna, Carpals, Metacarpals, and Phalanges bones.
Start Prepping with the FREE Dose of VetPrep Email
VetPrep's Daily Dose is a FREE service that gives you access to NAVLE® relevant questions. Sign up and you'll be emailed a topical question every weekday. Take a few minutes each day to test yourself!
Download a Sample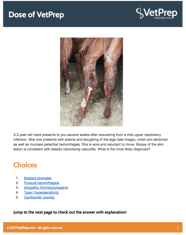 A 2-year old mare presents to you several weeks after recovering from a mild upper respiratory infection.
She now presents with edema and sloughing of the legs (a larger image is in the answer sheet), chest and abdomen as well as mucosal petechial hemorrhages.
She is sore and reluctant to move. Biopsy of the skin lesion is consistent with aseptic necrotizing vasculitis.
What is the most likely diagnosis? Download the Answer Sheet to get the answer with full explanation!