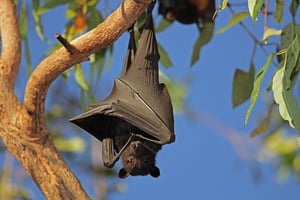 Rabies is a scary disease. With Wyoming just having it's first confirmed rabies death I feel that it is timely to discuss this almost 100% fatal disease. It's easy in the United States to forget how deadly and devastating this disease can be. We have prevention programs in place with our pets and very few people die from this virus each year.
However, it never ceases to amaze me how nonchalant people treat this infection. I have had numerous discussions with owners about the important of vaccination, not only because I think it is important but also because it is require by law. Some people become extremely combative against protecting their pets and themselves against rabies. It baffles me! I think it is worth noting that this woman was in her home when she was exposed to the rabid bat, so all those, "he doesn't go outside" arguments don't sway me.
Every year, more than 15 million people worldwide receive a post-bite vaccination to prevent the disease; this is estimated to prevent hundreds of thousands of deaths annually. Unfortunately rabies still kills 35,000 to 59,000 humans every year. The majority of exposure occurs through dog bite wounds according to the World Health Organization. As a veterinarian your job is not only to save animals lives but also human lives. Don't forget about your role as a public health professional.
Need an Edge Studying for the NAVLE?
You're of course going to need to study a ton to nail the test, but there are a lot of tips and tricks that will help you make the most of your study time and we've packaged those up in a
free
guide.
Some of the Top 15 Tips include:
Familiarize Yourself with the Test Format
Tackle the Weak Subjects Early
Start Sooner and Ease Into It
...and 12 more!