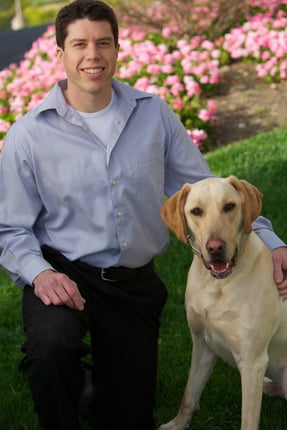 Each month we will highlight a veterinarian in our Spotlight Veterinarian segment. Our goal is to bring you different points of view from veterinarians in various specialities throughout our diverse profession.
September Spotlight Veterinarian
Our inaugural veterinarian is Dr. Mauricio Dujowich, DVM, DACVS. He is a multi-talented veterinary surgeon from Gainesville, Florida. He is a 2004 graduate from the University of California, Davis and pursued his surgical residency at Iowa State University. He is both a board certified surgeon and entrepreneur. Currently, he has two active positions as a Clinical Assistant Professor in Small Animal Surgery and also as President at XPrep Learning Solutions (the creators of VetPrep, VetTechPrep and most recently ViralVet).
Dr. Dujowich sat down with Idiopathic Issues to discuss his career and the state of veterinary medicine.
Idiopathic Issues (II): What responsibilities does your job entail?
Mauricio Dujowich (MD): My clinical job involves seeing client-owned soft tissue and orthopedic cases to teach students and residents encompasses the majority of my workload. However, there is still time made for lecturing students, lecturing at continuing education functions and research on really important stuff!
For my XPrep position I get to work with some of the brightest and talented minds in education who devote themselves to helping students pass the NAVLE and get the most out of their veterinary education, while in school and beyond.
II: What are the best things about your job?
MD: The best thing about the University is working with students and residents. It is so fun to be part of the enthusiasm, eagerness and turning on of the "light bulb" At XPrep the best thing is the team spirit and enthusiasm that everyone brings to the table to build solutions that will make veterinary medicine better for everyone
II: What are some challenges you face in your position?
MD: The main challenge is not having enough time to do everything we want to do.
II: Who is your most memorable patient?
MD: There have been a few patients that I thought would never make it out of the hospital but they proved me wrong and their owners right. It's amazing how easy our animal patients can endure challenging odds.
II: What are some challenges you see for the veterinary profession?
MD: I worry that veterinary training is suffering
II: What advice would you offer for someone who is interested in your specialty/area of interest?
MD: Veterinary surgery is not just a job but a lifestyle that comes with certain sacrifices. If you're not okay with those sacrifices think twice about going this route because you don't want to look back and realize you're not happy.
II: What are some of you hobbies outside of veterinary medicine?
MD: Skiing, mountaineering, surfing, running, biking….. basically anything that makes me tired and hurt.
II: What is your dream species to work with?
MD: Megavertabrates all the way!
II: What advice would you give to a vet student that you wish you had when you were a student? MD: Work hard, have fun, stay involved and don't be afraid to seek mentorship II: How do you see technology affecting veterinary medicine?
MD: Technology is really good at improving communication which then results in a chain reaction other advances. If we can continue to improve communication we will improve in all areas of veterinary medicine.
Need an Edge Studying for the NAVLE?
You're of course going to need to study a ton to nail the test, but there are a lot of tips and tricks that will help you make the most of your study time and we've packaged those up in a free guide.
Some of the Top 15 Tips include:
Familiarize Yourself with the Test Format
Tackle the Weak Subjects Early
Start Sooner and Ease Into It
...and 12 more!