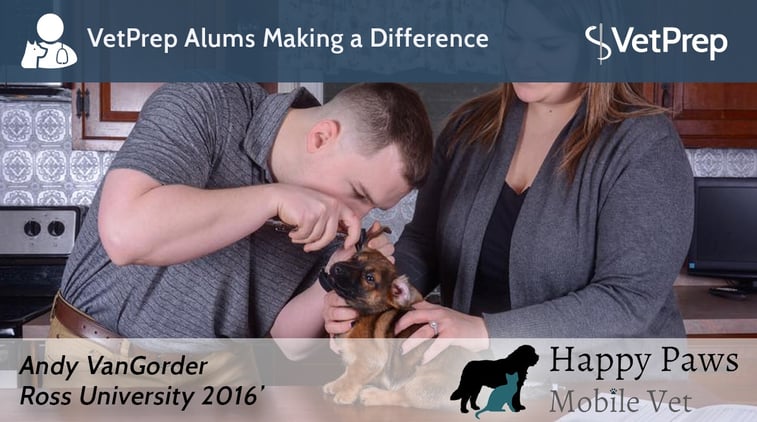 We love it when we find out that former VetPrep Users who used our service to pass the NAVLE® are making a difference in their field. Our latest story is about VetPrep Alum Andy VanGorder who graduated from Ross University in 2016.
In an article from the Centre Daily Times, Andy formed a company called "Happy Paws Mobile Vet". Andy created the mobile veterinary practice after he saw a need while spending time in a traditional clinic. His new business covers the State College to Lock Haven area, according to the company, and provides a range of services, including general wellness exams, vaccinations, lab diagnostics, microchip services and even nail trims.
"We would get a lot of calls from the homebound or specifically the elderly who didn't have access to the clinic," he said. "Or a lot of times people may have dogs that are bigger or may have difficulty getting to the clinic as well."

Read more here: http://www.centredaily.com/news/local/community/state-college/article132801634.html#storylink=cp
We love the fact that Andy not only is taking care of pets, but he is meeting his clients where they are at, in their homes. He is making their lives and their pets easier and for that we commend you! Well Done!
Andy recalls his time using VetPrep and said:
"VetPrep was a HUGE help to me with passing the NAVLE Exam!"
Andy also recieved coverage from his local news station, and you can check out the segment here. Be sure to follow Andy and his company on Facebook and check out his website with services.