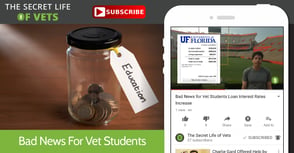 Dr. Mauricio Dujowich (aka "Dujo") is back for another installment of "The Secret Life of Vets". In this video, Dujo reacts to the news that the interest rates for federal student loans increased on July 1, according to the AVMA.



The Secret Life of Vets is a BRAND NEW YouTube Channel that we have created for the Veterinarian community. Make sure you subscribe RIGHT NOW so you never miss a video. If you like any video, let us know by giving it a like and we would love to hear what you have to say about this new series in the comments on the YouTube page (or here). Thanks!

SUBSCRIBE NOW!

TRANSCRIPT
Mauricio "Dujo" Dujowich: [00:00:10] Hey guys, it's Dujo from Secret Life of Vets. I to share with you guys who just recently went out for student loans.
Mauricio "Dujo" Dujowich: [00:00:19] And that's not only something to be concerned about but something you guys are going to have to face. It's going to effect the people that are starting right now to accrue loans so they're going to get a new loan, so 2018 people, loans that people have previously don't believe you don't have to worry about but any new loan you take on is going be affected by that new rate. What that means to you is really do your research and consider your options.
Mauricio "Dujo" Dujowich: [00:00:47] And my best recommendation is visit the Vin Foundation Student loan center. They have an incredible amount of information. They have the best tool available out there for veterinary students. And it's an incredible resource that they're willing to help everybody figure out their circumstances. And help navigate through loan situation. And also makes you think about everything else aside from the loan. You also have to think about Life expenses and kind of how your are going to dig yourself out of Student Loan debt once you get out of veterinary school. I just wanted to share that with you guys and you guys are doing well and Dujo out from Secret Life of Vets.