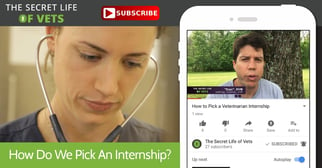 Dr. Mauricio Dujowich (aka "Dujo") is back for another installment of "The Secret Life of Vets". In this video, Dujo answers the question, "How to pick a Veterinary Internship".



The Secret Life of Vets is a BRAND NEW YouTube Channel that we have created for the Veterinarian community. Make sure you subscribe RIGHT NOW so you never miss a video. If you like any video, let us know by giving it a like and we would love to hear what you have to say about this new series in the comments on the YouTube page (or here). Thanks!

SUBSCRIBE NOW!

TRANSCRIPT
Maurico: [00:00:11] Hey guys it's Dujo again from secret life of Vets that's what you're watching and the question for today is how do we pick an internship. And one thing is it's really not too early to start thinking about it. To be honest with you because you want to shop around for an internship there's a lot of internship programs out there. There's very little oversight.

Maurico: [00:00:33] And that's something that's slowly getting better. But but there's not a lot of information out there. So it's really on you to kind of do the footwork and be the one that's going to put the time in to figure out where are going to go and what is going to be ultimately the best fit for you. I think that's the most important thing is where do you think you're going to you know reach your full potential. And that's hard to know unless you do a little research. So the big thing is everybody says should I do academic or private. And which is the best thing to do and kind of depends what your goals are. You know and then and to some extent what what kind of experience you're looking for. So there's pros and cons to both. Me personally I did a private practice internship and I wouldn't change that for anything else. That was definitely the right fit for me.

Maurico: [00:01:21] And and so that's what I would and that's what I would do over again without a doubt. And on the flip side I have friends that have done academic internships and that's what they would pick. But bottom line is you have to figure out what the best fit for you is and you're never going to know that unless you do extra shifts unless you call unless you try to speak to other previous interns and get a feel for what you're going to get into.

Maurico: [00:01:47] So that's my best recommendation. And you can never start too early on that.